Of course, we don't do what we do for the praise and awards, but we certainly do love to hear that our clients are happy and that they'd recommend us to their family, friends and colleagues – it's an amazing "feel good" bonus! It's also that which continues to inspire our love of real estate, our passion for helping people and our commitment to be the very best we can be, to provide the very best experience for each and every client – every time.
FROM OUR CLIENTS
Deeven did an outstanding job in the sale of our home. There will always be ups and downs  with Buyer negotiations, but, she kept very positive, handled the negotiations expertly  and most importantly we were happy with the end result as it met all of our needs including closing date. Deeven had all the contacts needed to dispose of the old stuff in the house and get the renovation work done where needed fast but still with very high quality work. This was a huge weight off our shoulders. She is high energy and very driven which was needed in this case as it was an estate sale. The only negative was Deeven was a little too persistant where she felt the path we required was a bad business decision. The listing of the property was handled very smoothly and professionally and she showed she has a lot of experience and knowledge on selling. It was a difficult market with rising interest rates  and more houses being on market but she kept us up to speed on all the market conditions so the right decisions could be made. The open houses were handled very well and she did a lot of work to get visibility for our house showings and followed up with all interest parties. I have no hesitation in recommending Deeven for selling your home as you can be sure she will get the job done and will not give up until she does.
-Ajay (October 2023)
---
"Dear Jackie,
Thank you from the bottom of my heart. Thank you, Jackie for everything you've done. I know I've not been the easiest client to work with.
You and John are truly amazing…from the bottom of my heart, a giant Thank You."
Sincerely,
-Lisa and Paul (July 2023)
---
"Dear  Deeven,
Thank you so much for helping us sell and buy our new home We were blown away by your knowledge and talent for negotiation and we couldn't be more pleased with how things turned out. We are incredibly grateful that we chose you to list our house.  Since day one we realized that you're 
committed. I really appreciate how easy it was to communicate with you any time we needed or had any questions. Thank you so much again, I would definitely recommend your service to everyone I know." 
– Carlos & Gabriela (July 2023)
---
" We recently purchased a house. We were not get that motivation to do so. But when we met Jackie and Deeven, we were so happy, they helped us to understand the market, the value of our house, and they also come to sell our house as early as possible. Whatever they said, they really did it in time. They followed all the commitments. We are like really happy with the price we got for our house. We are just looking forward to moving to our new place. I would really recommend Jackie and Deeven as they really do a good job and they are highly professional!
Yes last year we were really trying hard, because it was difficult of selling a house and buying a new house. But Jackie and Deeven made that happen. We are really happy the way they helped us. Really appreciate the efforts they put in getting our new house. Always recommend the Good Life Team!"
– Bhavana & Vinay (May 2023)
---
"Jackie has been my realtor for almost 20+ years. She works very efficiently with very high level professional skills, also pay a lot attention to all details of the property. She has a very good sense of the market and handles buyers very well. My house located on a very busy street but she used a very unique strategy to make my house sold fast at a high price. I am so lucky to have her as my realtor again. I will definitely refer her to anyone who needs real estate needs!"
– Lei (April 2023)
---
" Deeven sold our house in less than 1 week, and then she bought our new home in less than 2 weeks. We are extremely happy about her service. She's very intelligent, good communicator, knowledgeable. We just can't say enough good things about her. She's highly recommended!
Deeven did very good market research for us. That helps a lot to make our decision. She helped us to clean our clutter, and then she staged our house so amazingly that sold our house in 5 days. Deeven kept us informed every step so that we can make our decision very easily and very comfortable. Deeven is our lucky star!"
– Kin & Winnie (April 2023)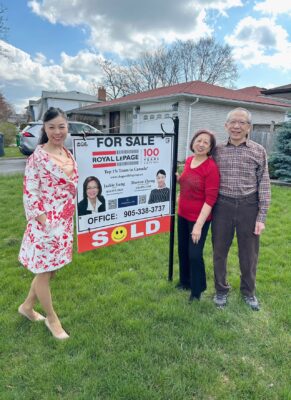 ---
"We recently purchased new house and sold our current house with Jackie and Deeven. This is 2nd time we worked with them. The 1st time they found this incredible house, because we want to find a larger house for our new baby so we asked them to help us selling this house. This is way more than our expectation and sold in 5 days. Super rapidly! They are so profession and give us a lot of help and lot of recommendations. I would highly recommend The Goodlife Real Estate Group's Jackie and Deeven."
– Weizhe & Meng (March 2023)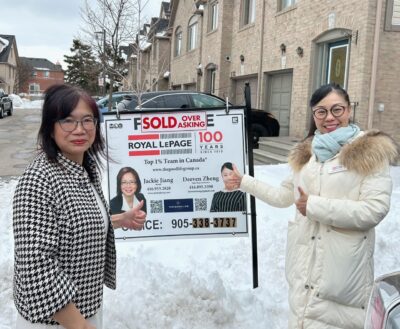 ---
" I am really excited to purchase my 1st home in my life. I really appreciate Deeven's help during the home buying process. I really recommend Deeven if you want to get your own home or condo purchased."
– Derrick (December 2022)
---
" Deeven is one of the most professional real estate agents we have met. The first time we saw her in action was when she held an open house in Mississauga and we were incredibly impressed by her demeanor and professionalism to the point where we decided to ask her to take over the sale of our house instead of our friend who is a real estate agent! We will, most definitely, recommend her to all our friends. Deeven always has the best interest of her clients at heart and she goes out of her way to make them feel comfortable while dealing with the emotional ordeal of selling their home. It's not all about monetary benefit for her. Keep up the great work Deeven and thank you for the amazing experience!"
– Simon & Micheline (November 2022)
---
"I wanted to take this time to share my experience working with Jackie. Around seven months back, it was a pretty stressful time for my dad, since he was in a really big rush to move. But Jackie was so great with advice and prepping the house, she pointed out the best features to hit the market, and just when we thought the market wasn't really hitting the seller she surprised us by getting the house sold on the first day that we listed it. Over 400k of my dad's asking price. Needless to say I'm definitely going to recommend her to all my friends. And her and The Goodlife team will be my family's realtor for life. "
– Sophia Zhao (October 2022)
---
"Take a picture with our agent Jackie who sold our house successfully!"
– Jeremy Wu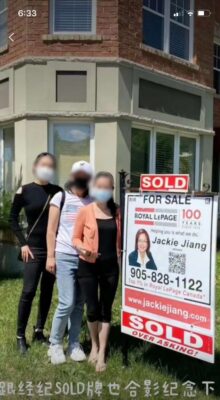 ---
" We sold our house with Jackie and Deeven, and we are very happy that we choose them as our real estate agents. They sold our house within 6 days, with hard work and honesty, and we cannot choose somebody else. We highly recommend Jackie and Deeven for the service!"
– Kamila and Marcin (September 2022)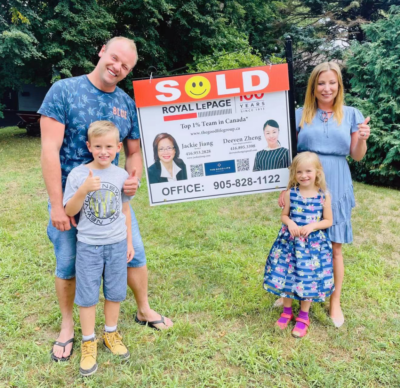 ---
Happy Seller
– Michal & Katarzyna (August 2022)
---
" I wanted to write to thank Jackie and Deeven for the incredible work and effort your team undertook for Greg & I as we explored selling our home.  You were efficient and attracted many prospects to our home.  Sadly the market has shifted and since we were not in a position where we had to sell we have decided to take the house of the market.  Greg and I have been impressed with your professionalism and work ethic.  We would absolutely recommend you to friends and family looking to sell their home and would look to you again should we decide to put the house up in the future."
– Shirley and Greg (June 2022)
---
"The Good Life team always had a positive attitude and amazing energy! Working with them has been a great experience for us and we wish them all the success in the world."
– Sharon & Mark M.
---
"We were overwhelmed with The Good Life's level of personalized service and professionalism. We sold our "forever home" and downsized to a lakefront condo, and they made the entire process a delight!"
– Gloria & Efren D.
---
"We had a tough property to sell and high expectations. We ended up getting eleven offers and achieved the selling price we wanted – The Good Life's pricing strategy, marketing plan and multiple-offer negotiation skills made it possible – we can't thank them enough."
– Beth & Carmichael L.
---
"The Good Life team's commitment to customer service excellence is second to none – their consultative approach was very helpful and they kept us informed along the way – very professional and fun to work with."
– Theresa & Peter K.
---
"We recently purchased a second home with the help of The Good Life team. We'd like to thank Jackie for the tremendous time and effort she devoted to ensuring our complete satisfaction – she's the absolute best and we couldn't be happier."
– William & Anne C.
---
"Their excellent service and professionalism are truly reflective of the values The Good Life team stands for, and in this regard, we are truly grateful. Right from the start, we felt we could trust their guidance and advice, and we're happy we did."
– June & Tony R.
AWARDS
The Good Life team's breadth and depth of experience, market knowledge, tireless work ethic and our relentless commitment to service excellence have resulted in not only the happiness of our clients, but award-winning industry performance as well – again, another "feel good" bonus that fuels our business and feeds our souls!